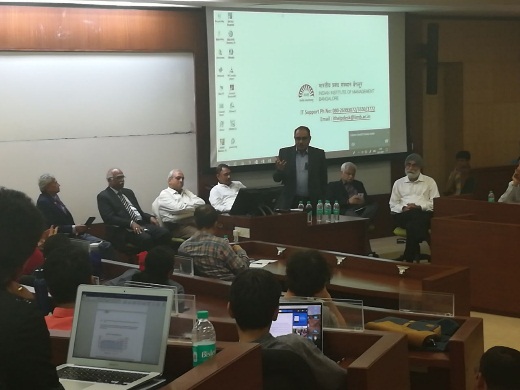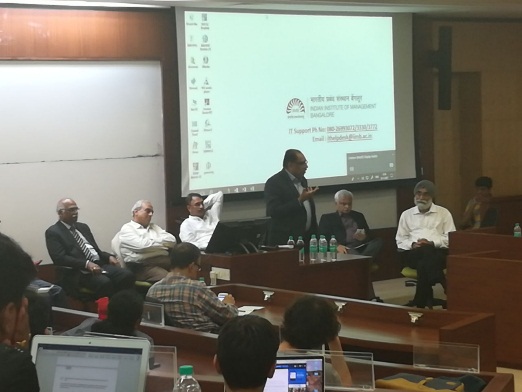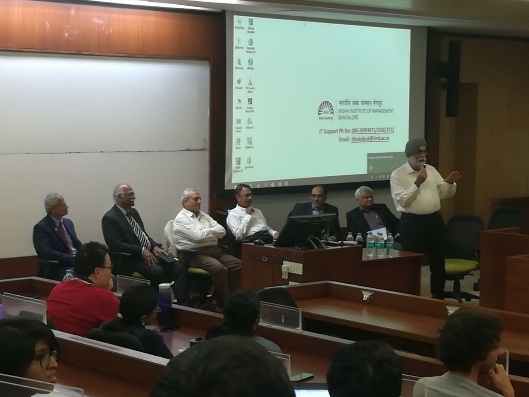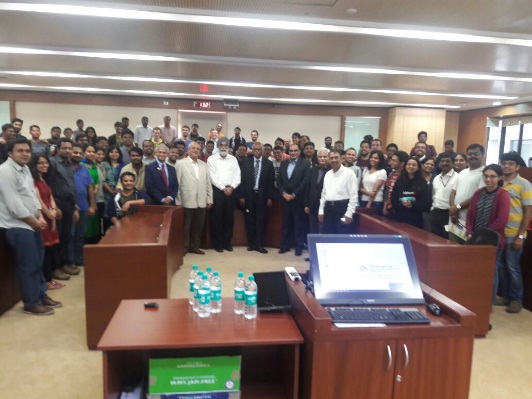 Managing Director, NABFINS co-chaired the session on "Demonetization and grass root realities" organized by IIM, Bengaluru on November 18, 2017. The PGDM and other students attended the panel discussion. The session was also co-chaired by Shri R.Gandhi, Former Deputy Governor, RBI who was the key person behind the demonetisation and remonetisation process in the country. The other panelists included Shri Sharath Sharma, Former Chairman cum Managing Director, SBM and Shri Shekar Viswanathan, Managing Director, Toyota Kirloskar, Shri Ramesh, CFO, SBI and Shri Sambath Kumar.
During his interface Shri Gandhi narrated the implementation aspects and achievements and consequences of demonetization to Indian economy and he also opined that adequate liquidity and currency in circulation in the Country comes back to the pre demonetization levels.
Dr.B.S.Suran shared the experiences of the micro finance companies and those connected with the unorganized sector. He felt that the poor in rural hinterlands were less perturbed in the initial part of the demonetization compared to the urban; especially given the contexts and challenges they face on a day to day basis. As already documented by RBI in its mint memos Dr.Suran also opined that demonetization had affected the disbursements of microFinance companies. While the recovery rates were robust in the initial phase in Nov and Dec 16, however, the collection efficiencies slipped subsequently and there was a lag effect of demonetization; this was accentuated by the call for loan waivers. The Company (NABFINS) however, maintained 98% of recoveries during the months of demonetization largely due to a more resilient model of microfinance delivery; which enabled better connect with clients through SHG members and also the local institutions that served as Business and Development Correspondent.
The other industry representatives presented their size of the story and perspectives. Prof. Dr. Charan Singh, Faculty of IIM Bengaluru was the person behind in organizing the program.