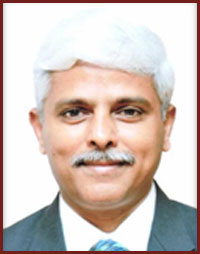 ,
Shri P V S Suryakumar,
Chief General Manager, NABARD Karnataka Regional Office, Bengaluru
Shri P V S SuryaKumar joined the National Bank for Agriculture and Rural
Development (NABARD) in 1986 and has worked in various capacities in the states of Madhya Pradesh, Uttar Pradesh, Maharashtra, Andhra Pradesh, Gujarat, West Bengal, New Delhi and Karnataka. During his career, he has handled a variety of functions; manager, trainer, manager of a natural resource management program supported by the KfW Germany, policy, represented NABARD at New Delhi and is
currently the Chief General Manager of NABARD Karnataka Regional Office.
Academically, he obtained a Masters in Plant Genetics from the Indian Agricultural Research Institute, New Delhi in 1986. He is a Commonwealth Scholar and obtained Masters in Sustainable Development from the Staffordshire University, Stroke-on-Trent, UK in 2010. He undertook the 25th Management Education Program at the Indian Institute of Management, Ahmedabad (IIMA) in 2001. He is an Associate of the Indian Institute of Banking & Finance.
He is appointed as nominee director representing NABARD on the Board of the Company with effect from October 10, 2018.