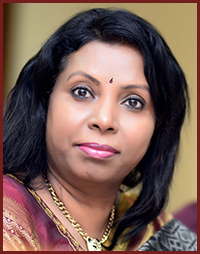 Dr. N. Nagambika Devi,
IAS ,Principal Secretary to Govt., Rural Development & Panchayat Raj Department, Govt. of Karnataka
Dr. N. Nagambika Devi is an IAS Officer of 1989 batch from Karnataka cadre. She has the distinction of first medical Doctor from Karnataka State to get into Indian Administrative Service. All along her career as an IAS officer, she has served various departments in Karnataka and has a varied experience and knowledge in the fields of rural development, drought monitoring, irrigation, mass education etc. She has served the Government of Karnataka in various capacities, to name a few : Dy. Secretary, Education; Director, Technical Education; Incharge for Rural Development for Karwar and Bidar Districts; Joint Secretary to Govt. of Karnataka, Dept. of Planning, institutional Finance, Science & Technology; Member Secretary, Drought Monitoring Cell; Director, Mass Education; Commissioner for Sericulture Development and Director of Sericulture; Secretary to Govt. Irrigation Department; Principal Secretary, Kannada, Culture & Information Department. Presently she is the Principal Secretary to Govt., Rural Development and Panchayat Raj Department, Government of Karnataka, Bengaluru.