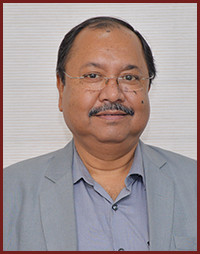 Shri Subrata Gupta
Shri Subrata Gupta in the cadre of Executive Director in NABARD has taken over the charge of Managing Director of NABFINS with effect from December 01, 2017.
Prior to his posting with NABFINS, he was heading the Department of Financial Inclusion and Banking Technology of NABARD at its head office in Mumbai as Chief General Manager taking care of financial inclusion initiation of NABARD as well as technology adoption by Rural Financial Institutions (RFIs). He spearheaded the entire project of implementing the core banking solutions across 201 District Co-operative Banks and State Co-operative Banks across 16 states and 3 union territories. He has varied experience in areas like Micro-finance, Infrastructure Financing, Resource Mobilization, Information Technology, etc. He also served as a faculty member in NABARD Staff College, Lucknow and has been in-charge of Sikkim regional office of NABARD.
Shri Gupta holds M.Sc. in Agriculture and PGDM from IIM, Ahmedabad. He joined NABARD in the year 1985.