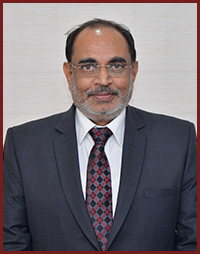 Dr. B. S. Suran
Dr. B. S. Suran, in the cadre of Executive Director in NABARD has taken over the charge of Managing Director of NABFINS with effect from April 10, 2015. Prior to his posting to NABFINS, he was Chief General Manager heading Inspection Department (ID) at NABARD Head Office, Mumbai and was also a Director on the Board of NABFINS for the period from May 28, 2012 to February 12, 2014.
Dr. B. S. Suran, is a PhD and a Certified Associate of the Indian Institute of Bankers. Being trained at the Centre for Rural Development Training, University of Wolverhampton, UK, he specializes in rural development projects. Having worked in three different regions of the country he possesses practical experience in project implementation, institutional development activities covering developmental action planning, organizational development interventions in rural financial institutions. His professional experience in rural / agricultural finance, and Rural Development projects spans close to three decades.
Having been associated with NABARD's Micro Finance Programme since its early stages, he has been instrumental in undertaking National Level studies on informal savings and credit groups, designing financial products for the poor and also strategizing the expansion of the SHG-Bank Linkage programme. He has also initiated few pilot projects in micro Finance & other related areas. He was also with the Centre for Development Studies, Trivandrum on a sabbatical assignment researching on cost allocation in multi-functional NGOs and financial diaries of the poor.