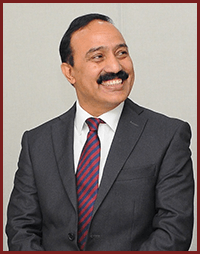 Shri OP Dhoundiyal,
General Manager
Shri OP Dhoundiyal is a General Manager in NABARD and is on deputation to NABFINS. He took over as General Manager NABFINS with effect from May 2016.
He is a post graduate in Economics and Certified Associate of Indian Institute of Banking and Finance. He completed Harvard ManageMentor® Management programme in 2010. He also trained in two management programmes viz. High Impact leadership (2014) and How Leaders Bring Change (2015) at IIM Bangalore.He was member of the Study Tour on Information and Knowledge Management deputed by NABARD to World Bank and other institutions in Washington DC in 2007.
He has supervisory experience of 33 years in NABARD where he served in various departments and offices of NABARD which included Mumbai, Lucknow, Guwahati, Andaman & Nicobar Islands, Pune and Bangalore. He served as DDM NABARD in Tehri Garhwal district of Uttarakhand. He was Regional Coordinator south region for NABARD's UPNRM project. He was also on the boards of Pithoragarh Regional Rural Bank Uttarakhand and Vidharbha Konkan Gramin Bank, Maharashtra as NABARD nominee.